By Cathrin Verano, Special Collection Development Librarian • Office of Communication, Education & Outreach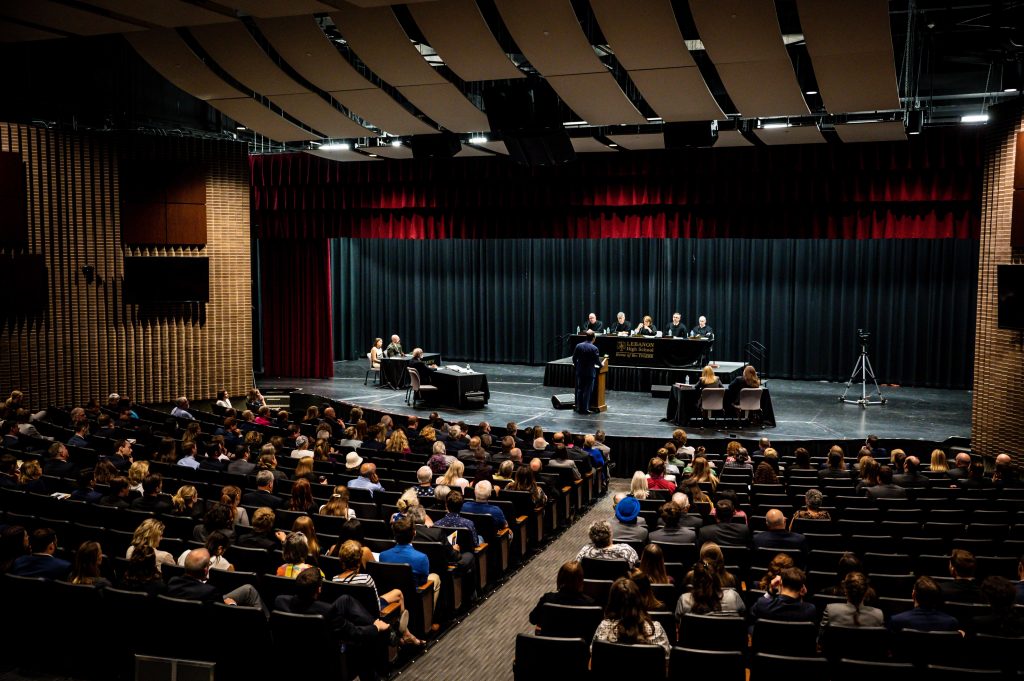 As part of the Indiana Supreme Court's commitment to making the judicial system accessible and educating Hoosiers about its work, the justices sometimes travel to hear oral arguments in counties across the state. This gives students, press, and members of the public the opportunity to watch the proceedings of the state's highest appellate court without having to travel to the Statehouse. Since 1994, the Court has heard 47 oral arguments on the road, each with venues, audiences, and cases that make it unique.
One such argument, heard at Lebanon High School in Boone County on June 30, held special significance for the members of the Court and the host location. The event was not only an emotional homecoming for Justice Steven H. David as a former Boone County circuit judge, but also the final argument he would hear before his upcoming retirement. Described by Chief Justice Loretta H. Rush in her 2021 State of the Judiciary address as a "tireless champion of justice," David called returning to Lebanon "an honor, a privilege, and a very humbling experience."
After Lebanon High School student Johara El-Shahat gaveled in the session as honorary bailiff, the Court heard arguments in James E. McCoy v. State of Indiana, a criminal case about advisement of rights. Nearly 250 guests attended, including former Supreme Court justices, Court of Appeals and trial judges, Indiana legislators, attorneys, and students.
The Court's Office of Communication, Education and Outreach took several steps to increase engagement with—and accessibility to—the event. To enhance the audience's understanding of the case and the steps it took to reach the Supreme Court, case details, associated documents, and a live stream of the event were made available online.
---
---
Following the argument, the Court answered questions from the audience. When asked by an incoming high school senior what drew the justices to public service over private practice, Justice David took the opportunity to share sentiments that have underpinned the 43 years since he took his first oath: "I think what brings all of us, regardless of our individual paths, to public service is nothing more than serving the public and a sense of citizenship, stewardship, and responsibility. I think all of us have an obligation to be as informed and as informative as we can, to vote and to be involved, to be willing to learn, be willing to change our minds once in a while, and to stand firm upon our convictions, if we reconcile that that's the right thing to do."
---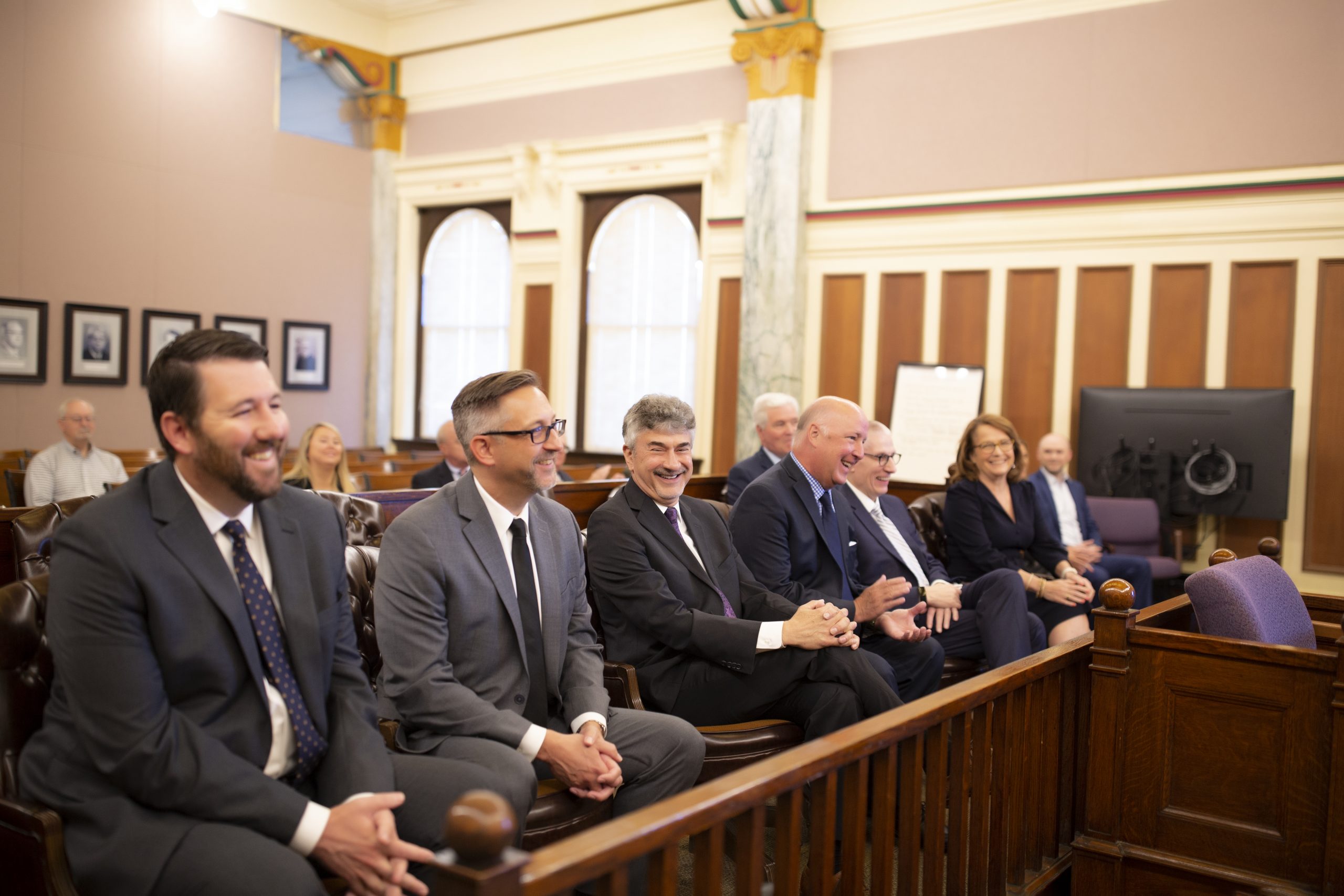 ---
The day's festivities began at the courthouse in the Lebanon town square, where the Boone County Bar Association assembled before the Honorable Matthew C. Kincaid, judge of Boone Superior Court I, to pass their Resolution Honoring Justice Steven David.
In addition to being recognized for his outstanding service, he is described in the resolution as "a possessor of the highest moral character and an overall extraordinary gentleman of impeccable good spirit, generosity and humor."
---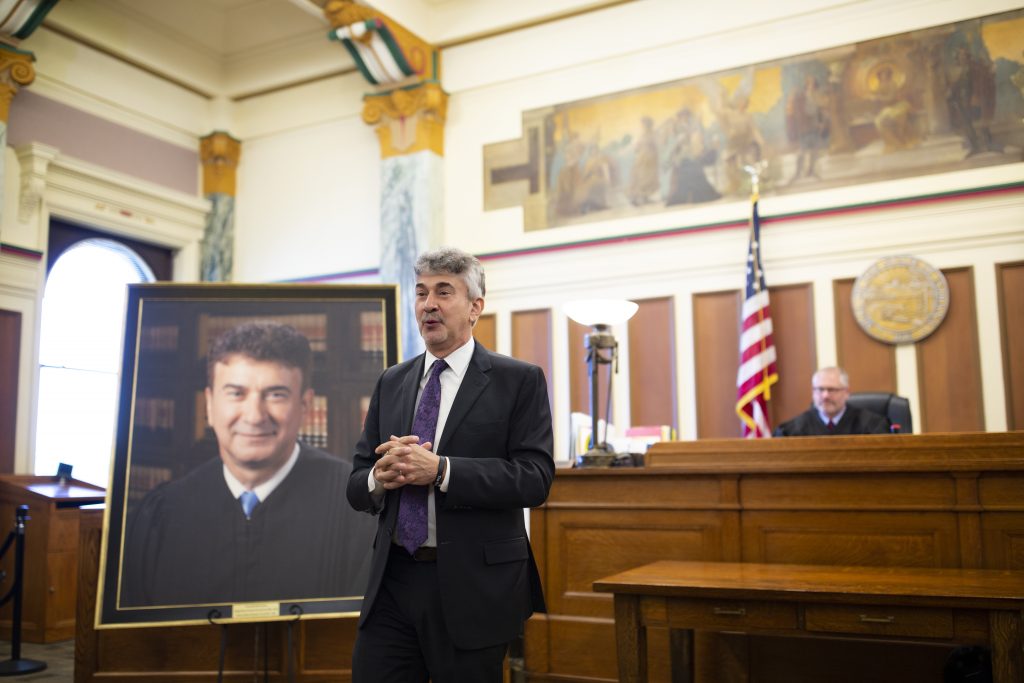 ---
Even before his appointment as the 106th Justice of the Indiana Supreme Court by Governor Mitch Daniels, the trajectory of Justice David's life and career demonstrates outstanding commitment to serving others—in both a military and civilian capacity—and an unbreakable bond to the Hoosier state.
Justice David's ancestors settled in southern Indiana in the late 1700s and early 1800s. He was born in Allen County, raised in Bartholomew County, and moved to Boone County after finishing his undergraduate and legal education. In 1975, as the nation was still trying to recover from the Vietnam War, the young Steve David signed up for Army ROTC. The first member of his family to go to college, he graduated magna cum laude from Murray State University as a Distinguished Military Graduate on an ROTC scholarship. Since then, Justice David has graduated from the Indiana Judicial College and the Graduate Program for Indiana Judges, as well as the Army's Command and General Staff College, the Military Judges School, and the Judge Advocate General's Basic and Advanced Officer's Course.
Following his 1982 graduation from the Robert H. McKinney School of Law, Justice David served in the United States Army Judge Advocate General's Corps on active duty until 1986. His reserve duty would continue until 2010, including two post 9-11 mobilizations to Iraq and Guantanamo Bay and time spent as trial counsel, defense counsel, military judge, and commander.
In his civilian career, Justice David practiced in Columbus, Indiana law firms, focusing on personal injury, family law, and civil litigation. Later, he became in-house counsel for Mayflower Transit, Inc. In 1994, Justice David was elected to the Boone County Circuit Court. Boone County recognized Justice David as its Citizen of the Year in 1999, and he retained his seat on the Circuit Court in 2000 and 2006 re-elections. The Boone County courthouse from which he tried or presided over at least sixty jury trials is only one mile away from the location of his final oral argument.
---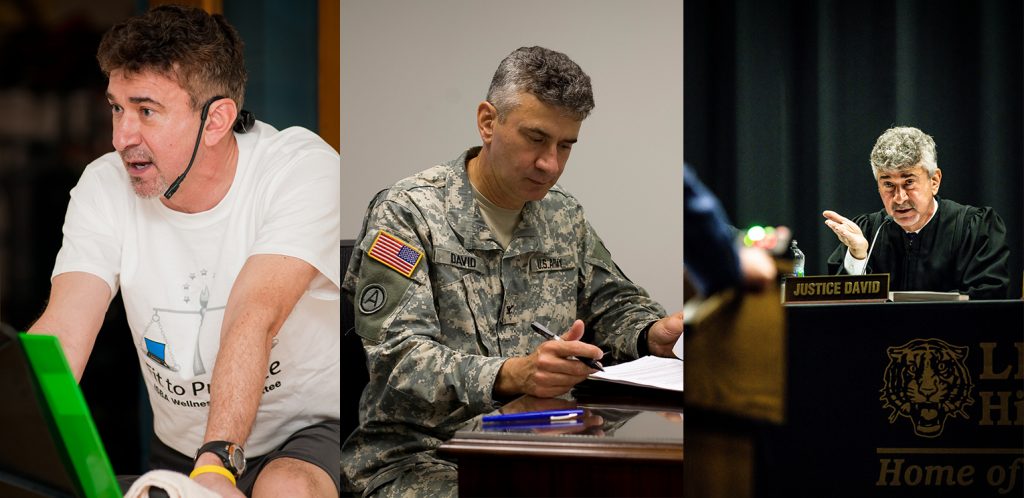 ---
While serving as a circuit judge, David was interviewed for a 2008 Indiana Court Times article. Then-Judge David reflected on his 2007 appointment by Department of Defense General Counsel William Hayes to the position of Chief Defense Counsel to the Office of Military Commissions. The Military Commissions Act—under which the position of Chief Defense Counsel was created—was enacted by Congress following the U.S. Supreme Court's ruling in Hamdan v. Rumsfeld on June 29, 2006. Colonel David was selected to lead the defense team representing Guantanamo Bay detainees from an elite group of only four nominees. The group of lawyers under his command was given the charge to "vigorously, zealously, and effectively represent individuals brought before military commissions, within the bounds of law." Justice David likened the challenge faced by his team to that of every trial court judge in Indiana: be fair, be firm and be committed to doing what is right."
This dedication to the rule of law and exemplary service has earned Justice David a number of military and citizen awards, including the nation's third-highest non-combat medal: the Defense Superior Service Award. He has also earned multiple Meritorious Service Awards, Army Commendation Medals, and the Frederick Douglas Human Rights Award from the Southern Center for Human Rights. For his work with children and families, he has earned the Robert Kinsey Award as the most outstanding Juvenile Court Judge in Indiana, the Godwin Children's Champion Award, and has been recognized by the Indiana chapter of the National Alliance for the Mentally Ill.
Justice David's commitment to the legal profession is passionate and ongoing. In the spring 2020 issue of Verdict, a publication of the Indiana Trial Lawyers Association, Justice David asked members "What are you doing to give lawyers a good name? Are you advocating for the profession? For each other?"
He encouraged them to take active roles in professional organizations, something which he has demonstrated by example by holding 19 current state and national-level leadership positions. He has led several CLEs on civility and ethics, including a session in January 2012 that took place during a one-hour spin class.
The physical challenges Justice David sets for himself are not limited to teaching from a stationary bike. After his retirement, he and his wife, United States Navy Reserve Commander Catheryne Pully, plan to hike to the top of Mount Kilimanjaro. Sharing these plans with the audience of his final oral argument, Justice David promised to take a picture at the summit with a gift he had received from a student earlier that day: a Lebanon High School t-shirt. With this poignant gesture, Justice David demonstrated that he will carry his deep ties to Boone County with him after retirement, just as he has done throughout his time in the legal profession.
---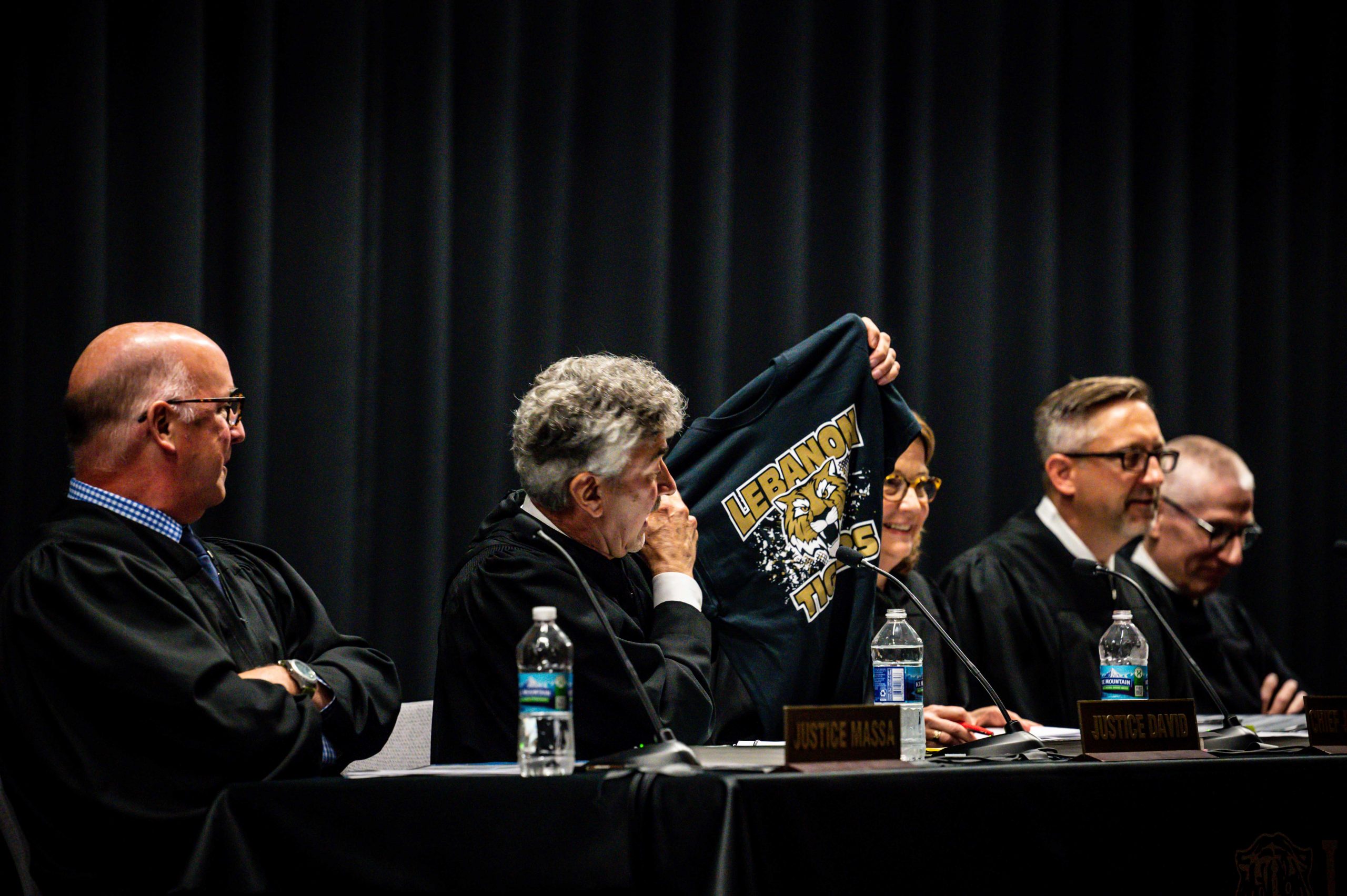 ---
Two years after his appointment to the Supreme Court, Justice David penned "The Lawyer's Creed." In it, he formalized his personal beliefs about the roles and responsibility of those who practice law. They "always reflect professionalism and civility," and act as "guardian[s] of justice, freedom, and the American way of life." These words are echoed in the Boone County Bar Association resolution in his honor:
Whereas, we recognize Justice David for faithfully upholding the highest principles of civility in the practice of law and administration of justice, and for always being a defender of the Rule of Law."

Boone County Bar Association Resolution