.. (I)n America the law is King. For as in absolute governments the king is law, so in free countries the law ought to be king; and there ought to be no other.

—from Common Sense by Thomas Paine
---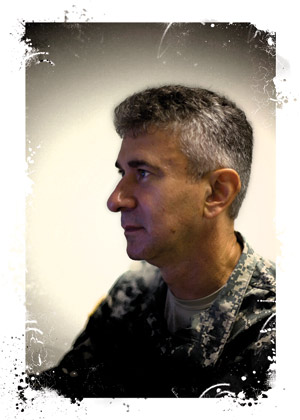 In January 1776, Thomas Paine published a pamphlet with profound influence that was enthusiastically embraced by people who would be called upon to perform extraordinary tasks in order to gain their freedom. Over two centuries later we face new challenges, and people are again called to action—this time in defense of those freedoms. One of those people is Boone County Circuit Court Judge Steven David, who is also a Colonel in the United States Army. In September 2007, William Haynes, Department of Defense General Counsel, appointed him to the position of Chief Defense Counsel to the Office of Military Commissions.
His position has placed him over the defense team of lawyers representing the Guantanamo Bay detainees. Colonel David was chosen from an elite group of only four nominees. Each of the Advocates General of the four branches of our military services made one recommendation for the position. The stated mission for these lawyers is: "To vigorously, zealously, and effectively represent individuals brought before military commissions, within the bounds of law." The magnitude and difficulty of the assignment is summed up by Colonel David in his answer to a media question about how he intended to fulfill his new assignment: "You're asking me to tell you how we're going to get to a place we've never been, with a map I don't have."
Shortly after assuming his new role, a Boone County criminal defense lawyer sent Colonel David the above quote from Thomas Paine's classic essay, which influenced decisions leading up to the war of independence from England.  Colonel David has adopted it as his daily reminder, and he includes it in all his email correspondence. To Colonel David, the quote by Thomas Paine "makes sense not only for the fledgling nation for whom it was written, but also for this powerful nation that is struggling in this time of fear with the issue of whether we abandon the rule of law."
President George W. Bush issued a Military Order on November 13, 2001, establishing Military Commissions to provide for the detention, treatment and trial of certain non-citizens in the war against terrorism. The justification for the use of these presidential military commissions, according to a November 30, 2001, New York Times Op-ed article by then White House Counsel, Alberto R. Gonzales, was to spare "American jurors, judges, and courts the grave risks associated with terrorist trials. They allow the government to use classified information as evidence without compromising intelligence or military efforts. They can dispense justice swiftly, close to where our forces may be fighting, without years of pretrial proceedings or post-trial appeals." The Military Commissions were set up in Guantanamo Bay, Cuba.
The United States Supreme Court ruled, in the case of Boumediene v. Bush, June 12, 2008, that foreign Guantanamo detainees have rights under the U.S. Constitution and may challenge their detention in civilian courts. This is the fourth case involving Guantanamo Bay that has been decided by the Supreme Court, and the rulings in all of the cases have consistently found that detainees do have rights under our Constitution. The administration had argued that the detainees have no constitutional rights and courts have no jurisdiction over their cases. In response to the adverse rulings, the administration set up secret military review panels, known as "combat status review panels," and Congress passed the Detainee Treatment Act, which formalized the process and also stripped federal district courts of the authority to hear new detainee cases.
On June 29, 2006, the U.S. Supreme Court ruled in Hamdan v. Rumsfeld that the Bush administration's planned military commissions at Guantanamo Bay violated the laws of war and international conventions. At the request of the White House, Congress then enacted a new law—the Military Commissions Act—establishing military commissions and creating the position of Chief Defense Counsel, to which Colonel David was appointed.
It was after a recent Indiana Judicial Conference education session in Indianapolis that Judge Steven David sat down to discuss his unique role as Colonel Steven David, Chief Defense Counsel to the Office of Military Commissions.
He has brought to his offices in Washington, DC and Guantanamo Bay, Cuba his Hoosier values and his years of experience as a trial court judge. Steve David is an Indiana native son. He grew up in Bartholomew County, moving to Boone County after finishing his undergraduate and law school education. He graduated from Indiana University Law School in Bloomington and was later elected as a Boone County Judge, where he has served for the past 13 years. Judge David says that he has always wanted to serve as a trial court judge. When not performing his duties on the bench, or serving his country in his role with the U.S. Army, he is actively involved in his community serving on the board of directors for a number of local nonprofits. He also serves on the Board of Directors of the Indiana Juvenile and Family Court Judges.
Judge David has exhibited his generous nature in a very personal way. In 1994 his niece was on dialysis and needed a kidney transplant. Medical tests indicated that he was a match for her, and Judge David donated one of his kidneys. His niece has since graduated from college, is in great health, and teaches in the Center Grove school system in Indianapolis.
He takes on his assignment with dedication and purpose and states that "we are defending the rule of law at a time when our nation's integrity is on trial." He realizes that he is going into an uncharted area of American jurisprudence and is under pressure from the prosecution team to move the cases along. "I will move as quickly as I can, but we will not be bullied by the government. I believe that this is a defining moment in our history, and we are going to take our time and do it right," says Colonel David.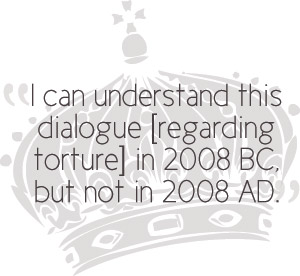 One of the pivotal issues in the pending trials concerns the use of torture to obtain information and extract confessions. The most contentious dispute involves the alleged use of water-boarding Colonel David is incredulous that there is even talk about torture. "I can understand this dialogue in 2008 BC," he observes, "but not in 2008 AD." The treatment of detainees over their months and years of captivity at Guantanamo Bay seriously undermines the credibility of the military lawyers assigned to provide them with a legal defense, says Colonel David.
Colonel David asks these questions: "How do we convince a detainee that we are there to help them, to gather evidence, to receive due process? How do we convince them that by accepting the assistance of counsel they are not also accepting our system of government and justice? How do we convince them that we are not spies, not interrogators, not FBI, not CIA?"
Colonel David explained the dilemma of their situation by citing a change in their approach when talking to the detainees. They decided to give defense counsel the option of meeting with the detainees wearing civilian clothing instead of uniforms so as to enhance the detainees' comfort level in contrast to seeing interrogators in military uniforms. The result was unexpected. The detainees were insulted that they would come to visit them out of uniform and suspected the lawyers of trying to engage in subterfuge. The trust between lawyer and client is not at a very high level, and it may never be, according to Colonel David.
Recently the government brought charges against five detainees, accusing them of planning and assisting in the September 11th attack. The prosecution wants to get these cases to trial as soon as possible. They are seeking the death penalty against most of them. Colonel David said that he found these arraignments and the government's rush to judgment very disturbing. Many of these individuals have been held in captivity for years without being able to speak to anyone except their interrogators. He says: "the right to counsel is fundamental to our system of American Jurisprudence. 'Offering' the right to counsel after years of what these accused have endured is like offering a stale doughnut to a man dying of cancer."
On the military attorneys, Colonel David says: "there is a tendency sometimes for people to come to the incorrect conclusion that military attorneys are not qualified or are only giving 60% effort. That is ridiculous. Look at the Hamdan case. The military attorneys, men and women, did just great. The people I am fortunate enough to work with are some of the smartest, hardest working, and most zealous advocates I have ever seen. They are defending the rule of law. That's what we expect in our country, and that's what we expect in Indiana. We are working to preserve the integrity of our system of justice.
I am not suggesting that everyone will be supportive of our role, but they should at least understand it. I have people under my command who are working 50, 60 and 70 hours a week. Everyone should be proud of these women and men defending our constitution and our rule of law. "
Colonel David has a fundamental problem with the military commissions. They have been set up in these cases as a substitute for our established judicial institutions: our federal courts and our courts of military justice. "Why are we using an untried, flawed system when everyone in the world is watching us, and running the risk of damaging the integrity of our legal system? That is what makes this so frustrating. The system they have created is not very good. We can do better. Why aren't we using our Federal Courts or our Uniform Courts of Military Justice to litigate these cases and to decide the serious issues concerning classified information, national security, and the use of torture? Why aren't we using a system that has proven itself rather than a system that is brand new?" he asked. Despite his concern about using the military commissions, he said he is resolute in fulfilling his obligations.
Some people ask him how he can represent people who have been accused of attacking the very nation he is defending through his service in the United States military. The answer to that question goes to the heart of who he is as a man, as a judge, as an American. The Boone County Circuit Court proudly displays a flag of the United States. In Judge David's chambers there hang two other flags: a U.S. Army flag and a flag honoring the victims of 9/11. He says candidly that he cannot imagine the deep emotions felt even today by these families. On that day, he was glued to the TV like the rest of the nation and still gets goose bumps thinking of those tragic events. He is an American patriot who signed up for ROTC in 1975 when the nation was still trying to recover from the Vietnam War.
In his mind, being patriotic and flying the flag of honor for the 9/11 victims is not inconsistent with his job as Chief Defense Counsel. He and his team of lawyers are defending this great nation—not on the battle fields but in these halls of justice.
In conclusion, Colonel David says that his challenge "is very similar to that of every trial court judge in Indiana: be fair, be firm and be committed to doing what is right, not what is politically correct.  I think our nation should expect nothing less from my office. It is not about the people or the offense for which they are charged.  We are better than that.  It is about defending the rule of law."