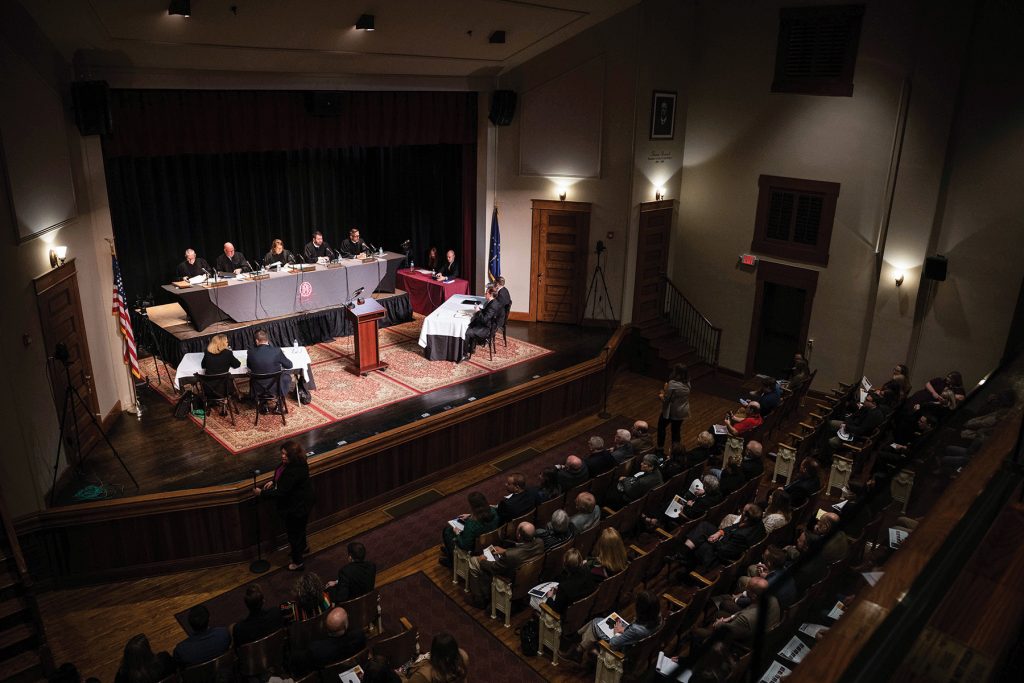 On October 26, the Indiana Supreme Court traveled to the Mitchell Opera House in Lawrence County to hear oral arguments in a criminal case. Typically, the Court schedules traveling arguments twice a year to bring this important function of state government to a community other than Indianapolis. These events provide students, media, and the public a more local opportunity to see the judicial process at work.
The Court heard arguments to consider whether it should accept jurisdiction in Christopher Jerome Harris v. State of Indiana, after the Court of Appeals affirmed the trial court's finding that Harris should be sentenced as a habitual offender.
Much like the Supreme Court Courtroom, Mitchell Opera House, built in 1906, served as an historic venue for the case. Nearly 300 people attended, half of which were seniors from nearby Mitchell, Shoals, and Orleans High Schools. Mitchell High School student Emma Sowders gaveled the Court in and out of session as the honorary bailiff. Several former Supreme Court justices, local judges, state representatives, members of the Lawrence County Bar, and county administrators joined the students in the beautiful auditorium.
Following the argument, the Court answered questions from the students. With these remarks, the justices provided members of the local community with an opportunity to learn more about their backgrounds, the path to the bench, and the way that cases move through the judicial system.