By Kathryn Dolan, Chief Public Information Officer • Office of Communication, Education & Outreach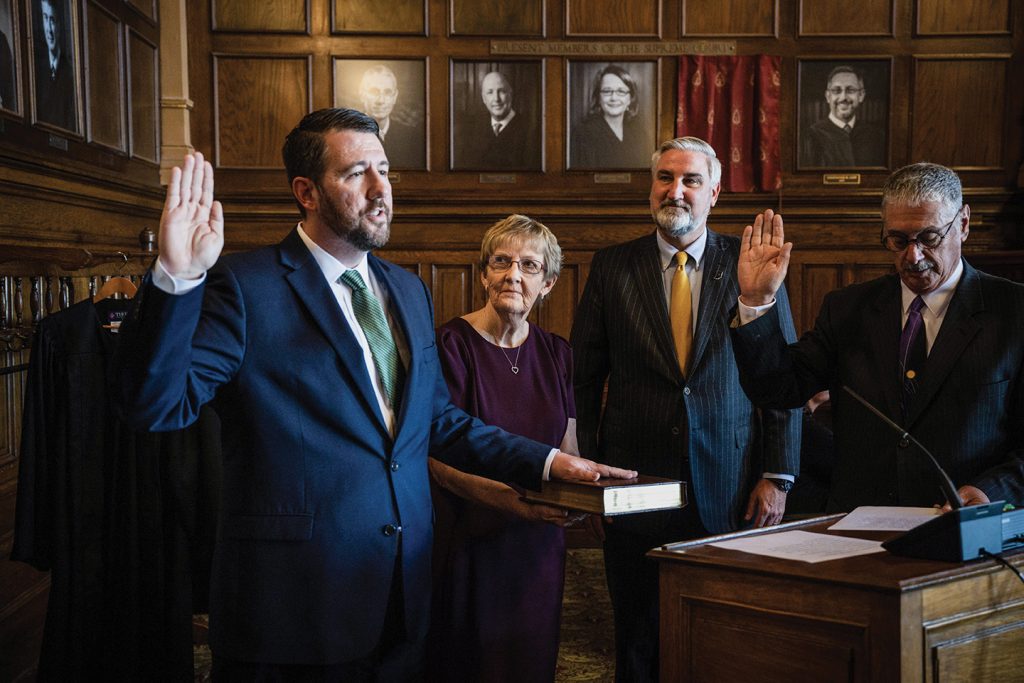 ---
---
When the Court of Appeals of Indiana held a celebratory party for Judge Derek Molter, Chief Judge Cale Bradford jokingly told the room he had decided to deny the transfer! Molter is described by the Judicial Nominating Commission "as possessing a thoughtful, sharp mind" and as a person "who maintains a steadying and evenly tempered voice." With such accolades, it's no surprise Molter made a positive impact on his fourteen colleagues, making his ascension to the state's highest court bittersweet for them.
Governor Holcomb appointed Molter to the Court of Appeals to replace the Honorable James S. Kirsch. Since taking the bench on October 1, 2021, Judge Molter has authored over one hundred decisions and participated in panels deciding more than 200 other appeals. In addition to his judicial work on the appellate court, Molter's broad legal background includes government-related work that helped shape his interest in public service.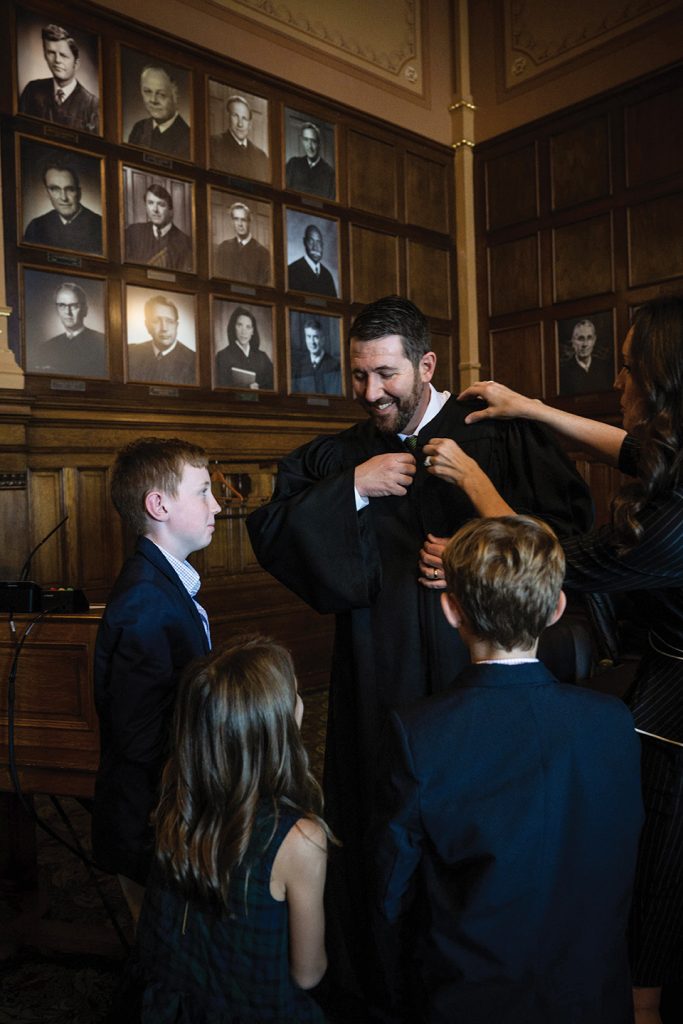 Molter described the balanced nature of his civil practice in his application to the Judicial Nominating Commission: "My clients included plaintiffs and defendants; individuals and businesses; government entities and clients pursuing claims against, or defending claims by, government entities." He has represented a city court set to be abolished, a state court ordered to produce confidential juvenile records, and a state court whose employees were subpoenaed for a class action prisoner lawsuit. Molter described this work for judges and state courts as "some of the most challenging and rewarding work" he undertook during his time as a private practitioner.
The Indiana University Bloomington graduate earned a Bachelor of Arts with high distinction in Political Science and Philosophy. He attended the Indiana University Maurer School of Law, where he graduated magna cum laude, earning a place in the Order of the Coif Honor Society for placing in the top 3% of his class. Molter took advantage of multiple opportunities to gain experience in the federal system. While in law school, he worked as a legal intern for the United States House of Representatives' Judiciary Committee. After graduation, he then served as a judicial law clerk for the Honorable Theresa L. Springmann, United States District Court Judge for the Northern District of Indiana from 2007 to 2008.
I feel as though I'm sprinting to leap onto a train that is already at full speed. But thankfully, all of my colleagues have extended a hand to help me aboard."

Justice Derek R. Molter, Remarks at Robing Ceremony
Following this experience, Molter became an associate at a Washington D.C. law firm, where his work included a devotion to appellate preservation issues. As part of the practice, Molter also volunteered hundreds of hours to assist litigants on a pro bono basis. His endeavors included representing an association of tenants suing building owners over deplorable housing conditions in Washington, D.C., as well as a plaintiff schoolteacher with degenerative arthritis suing for discrimination based on her disability.
But the attraction to return home to Indiana was strong. In 2013, Molter returned to the Hoosier state with his wife and family to join an Indianapolis law firm's litigation practice. He represented clients in state and federal courts around the country and covering a variety of subject matters, including corporate law, insurance coverage, constitutional challenges to statutes and ordinances, personal injury and wrongful death, product liability, zoning, trusts and estates, guardianships, indemnity claims, and real estate litigation.
The four Justices of the Indiana Supreme Court welcome Derek Molter as an attorney with state and federal experience—including service in our nation's capital—and as a large law firm practitioner who devoted significant time to pro bono work. But, at heart they are welcoming a Newton County native who grew up working on a farm. While Molter has distinguished himself as one of the preeminent appellate lawyers in Indiana and has hit the ground running after his appointment to the appellate bench, he has never lost sight of his community, consistently giving back to those in need. Since 2011, he and his wife have contributed to and helped administer a leadership fund that provides scholarships to South Newton High School students attending camps and leadership programs.
In remarks given following his appointment by Governor Holcomb, Molter expressed his admiration for the respect the Supreme Court shows to the parties who come before it, to counsel, and for "its solemn obligation to uphold the promises of our Constitution." With this veneration for the Court, the experience gained during his distinguished legal career, and his commitment to public service, Justice Molter looks forward to serving Hoosiers in his new role.