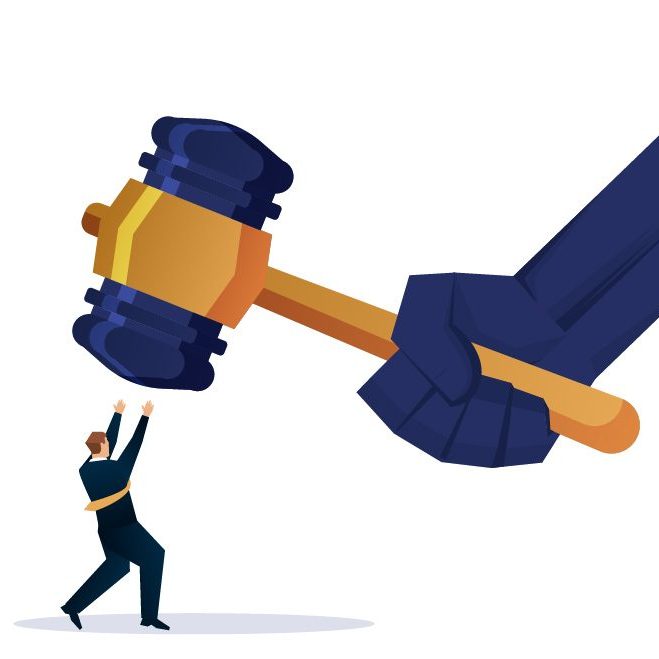 By Marcus Alan McGhee, Staff Attorney (former) Indiana Commission on Judicial Qualifications
Managing a docket, staff, and one's own mental and physical health can be challenging on any day, but especially when you have an abusive individual appearing before you in court. Some may talk over you, curse you, and the very audacious may even threaten you.
While instinct might encourage a proportional response, the Code of Judicial Conduct requires judges to be patient, dignified, and courteous in the face of the most invective speech and conduct. R. 2.8(B) of the Code of Judicial Conduct.
"In our jurisprudence the extraordinary action of contempt of court does not lie to heal the wounded sensibilities of a judge; it may be invoked only when the offending act impedes or disturbs the administration of justice." Grimm v. State, 240 Ind. 125, 128 (1959). Therefore, for most incidents of impertinence, it is wise to heed advice the late Justice Ruth Bader Ginsburg passed on from her mother-in-law that "it helps sometimes to be a little deaf."
Nevertheless, there are times when a judge must curtail insolence. To ensure a judge's attempts at correcting violations of court procedure do not themselves transgress statutory and procedural norms, judges must be mindful of the steps necessary to institute a contempt action.
Checklist for Proper Contempt Proceedings
Identify
Determine which type of contempt you are instituting and follow the necessary statutory procedure. For example, determine whether the purpose of the contempt is criminal (punitive) or civil (coercive or remedial) and whether you are instituting direct contempt (I.C. § 34-47-2) or indirect contempt (I.C. § 34-47-3).
Remember, if a criminal contempt proceeding is conducted (either direct or indirect), the action must be filed under a new case name and case number since the new charge has no connection to the underlying offense. See Allison v. State ex rel. Allison, 243 Ind. 489, 500 (1963).
Notice
Inform the individual that you are beginning a contempt hearing.
Specify
State the specific words or conduct that justify the contempt proceeding. See, e.g., State ex rel. Stanton v. Murray, 108 N.E.2d 251, 257 (Ind. 1952); Andrews v. State, 505 N.E.2d 815, 827 (Ind. Ct. App. 1987); Skolnick v. State, 388 N.E.2d 1156, 1163–64 (Ind. Ct. App. 1979). Conclusory statements are insufficient.
Provide an Opportunity to be Heard
Permit the individual a chance to explain and apologize for their behavior.
Determine the Sentence
Make a ruling.
Reduce everything to writing. Be sure to state the specific words or conduct displayed by the individual held in contempt.
The ruling must be 180 days or less—unless the individual was sentenced by a jury and had an opportunity to consult counsel. Wine v. State, 147 N.E.3d 409, 418 (Ind. Ct. App. 2020), trans. denied.
Judges should avoid auctioneer style sentencing, whereby the sanction is increased each time the person, for example, states a profane word. See, e.g., Adrienne Meiring, "Punishing the Profane," Indiana Court Times, May 6, 2013.
If a jail sentence is imposed, the judge should adopt a graduated sentencing scheme, whereby the sentence starts with a single digit sentence and increases only with subsequent (not the same episode) offenses.
Explain the Right to Appeal
Notify the individual they can appeal the decision.