By Cathrin Verano, Special Collection Development Librarian · Office of Communication, Education & Outreach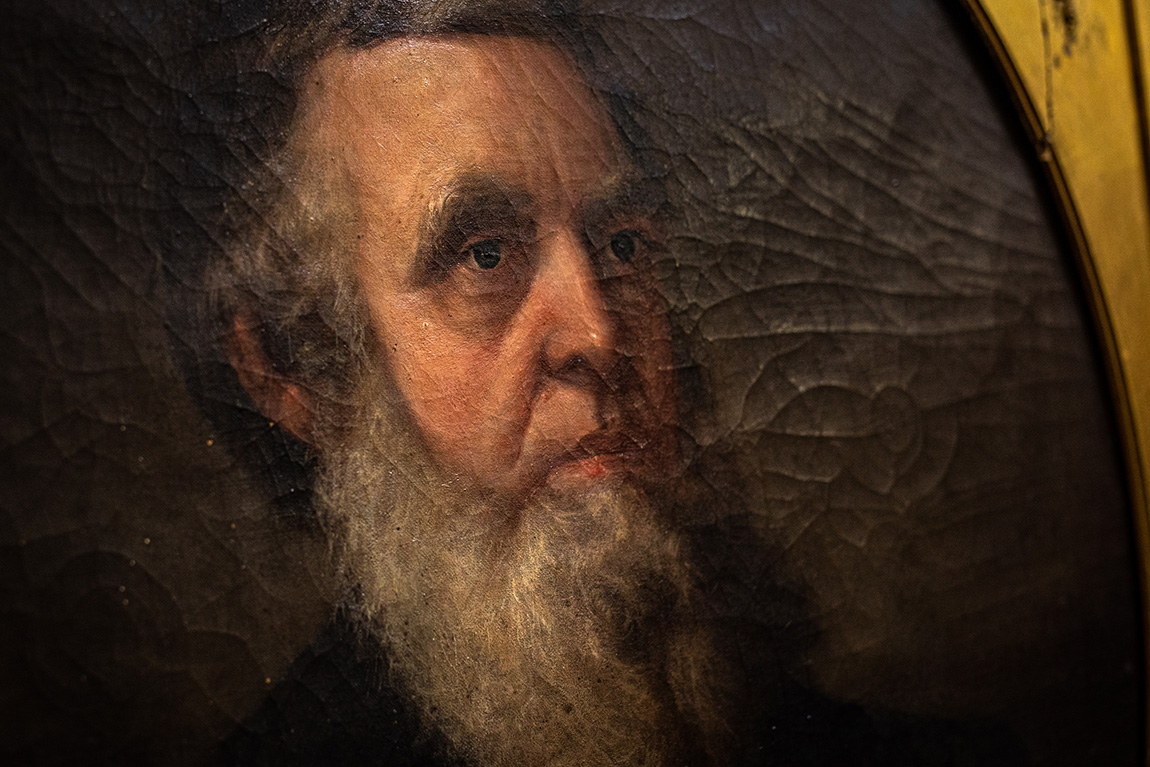 The Supreme Court Law Library was recently gifted a large painting of Justice Samuel Barnes Gookins, who served from October 10, 1854, until his resignation in December 1857. Over three feet tall in its frame, the warmly lit and charismatic portrait was painted in 1865 by his son, notable Terre Haute artist James Farrington Gookins. It remained in the family until its generous donation to the Law Library by Justice Gookins' great-great-great grandson, Eugene Duy Radice.
Justice Gookins sat for the portrait eight years after his retirement from the bench, while both he and his son were living in Chicago. At the time, the city had a reputation as a hotbed of abolitionist activity, bolstered by a small but vocal anti-slavery population.
At a public meeting in 1862, Justice Gookins read his lengthy, satirical poem "Tom Johnson's Bear" to a receptive audience. Justice Gookins later described it as showing the absurdity of keeping Blacks enslaved while rebel slaveholders were seeking to destroy the government. A sequel entitled "How Mr. Lincoln Became an Abolitionist" was published in Continental Monthly and the National Anti-Slavery Standard in June 1863. This poem presents an extended allegory of Lincoln as a "woodman" whose "house" (the United States) is breached by a rebel "burglar" with the aid of the "ladder" of slavery.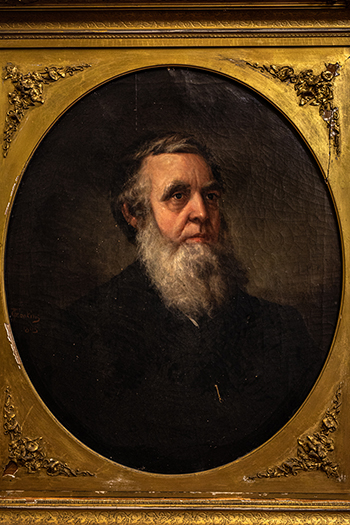 While Justice Gookins' opposition to slavery is clear, it is important to note that his poems addressed abolition in terms of the effect it might have on the Union, as opposed to the humanitarian necessity of releasing enslaved people from bondage.
Years before publishing these poems, and before embarking on a remarkable legal career, Justice Gookins had fostered lifelong associations with prominent Indiana opponents of slavery. As early as 1828, the 19-year-old Samuel Gookins apprenticed himself to John W. Osborn, the editor and publisher of the Western Register. Osborn founded this paper after leaving his post at the Western Sun in Vincennes, Indiana, where he sought to defend those being held in bondage in violation of the Northwest Ordinance of 1787.
During his time with the Western Register—and likely through Osborn's connections—Samuel Gookins became acquainted with Judge Amory Kinney, who as a lawyer had represented Polly Strong when she successfully pursued her freedom in a case before the Indiana Supreme Court. In fact, it was Judge Kinney who convinced Gookins to abandon his plan to pursue journalism in favor of entering into the legal profession. According to Gookins, his legal education began with the study of Blackstone's Commentaries on the Laws of England in the back of Judge Kinney's office.
From these humble beginnings, Gookins was admitted to the Vigo Circuit Court bar in 1834, and shortly after united with Judge Kinney and Salmon Wright to establish the Terre Haute law firm Kinney, Wright & Gookins. He was elected to the Indiana legislature in 1852 and then to the Indiana Supreme Court in 1854.
Justice Gookins' obituary published in the Terre Haute Weekly Gazette described his judgments as "always impartial and true." The man himself was remembered as "most kindly and humane," "never censorious or prejudiced," and "by very nature a poet."
The Office of Communication, Education & Outreach is liaising with a private conservator, researching other repositories of James Farrington Gookins' work, and carefully evaluating options for the portrait that will ensure its continued preservation and eventual display.