Mary L. DePrez, Director & Counsel  |  Trial Court Technology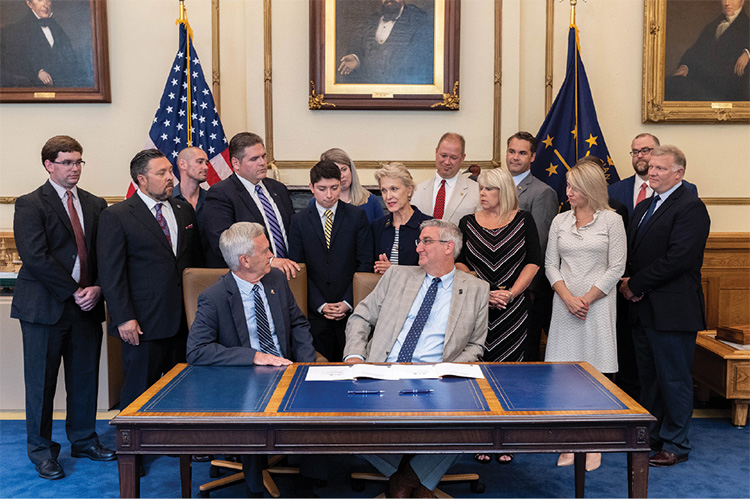 Department of Veterans Affairs
Too many veterans do not utilize the benefits and services available to them through the Department of Veterans Affairs. One goal of Indiana's veterans courts is to connect veterans with the services they have earned by serving our country.
For years, a handful of jails in Indiana have been voluntarily sending inmate data to the VA. The VA is then able to identify any veteran in jail who might be eligible for VA services. The VA shares this information with a Veteran Justice Outreach specialist, who contacts the veteran. Although they cannot provide legal advice, they do connect the veteran to available VA services.
As posted on the U.S. Department of Veterans Affairs website:
The aim of the Veterans Justice Outreach program is to avoid the unnecessary criminalization of mental illness and extended incarceration among veterans by ensuring that eligible, justice-involved veterans have timely access to Veterans Health Administration services, as clinically indicated. VJO specialists provide direct outreach, assessment and case management for justice-involved veterans in local courts and jails and liaison with local justice system partners.
Veterans Treatment Courts
The first veterans court was established in 2011 in New Albany by Floyd County Superior Court #3 Judge Maria Granger. Today, Indiana has 27 certified veterans treatment courts with one in the planning stages. In the February 25, 2016, edition of Court Times, Judge Granger shared her perspective of veterans court:
We are all safer and better when our veterans can cope and regain strength in life after military service. It is fundamental to America's promise to help restore the life of a veteran living in turmoil, even to the extent of breaking the law.
No Veteran Left Behind
VHA services include finding stable housing, obtaining gainful employment, accessing vocational services, and receiving physical and mental health care.
U.S. Army Veteran Rep. Dennis Zent sponsored House Bill 1299 that was signed into law by Governor Holcomb on May 2, 2019. Similar to what some Indiana jails have been doing, the goal of this legislation is to identify justice-involved veterans through a collaboration between the Office of Judicial Administration and the Department of Veterans Affairs.
Although the new law does not take effect until January 2020, Trial Court Technology reached out to the VA to begin discussions on how we could exchange data between Odyssey courts and the repository of veteran information maintained by the VA.
During the last week in May, TCT and the VA successfully tested the process. TCT pulls defendant data from Odyssey for all new criminal cases filed the prior day. VA cross-checks the Odyssey file against their VA file. Any "match" is identified and VA provides that information back to TCT. TCT updates Odyssey with a flag on the party record so the judicial officer can immediately identify a veteran. VA distributes the information to their VJO specialists, who then have valuable information at their fingertips in order to reach out to the veteran.
Judi A. Green is a VJO specialist working in the Indianapolis area. According to Ms. Green, they are already seeing the benefits of this collaboration throughout the state. She observed:
This new project has already made a difference in the lives of veterans. I recently talked with a VJO who told me he was able to use the list from the Veterans Reentry Search Service to identify and connect with a veteran and get him enrolled in VHA services to receive needed healthcare. Although we are in the early stages of this project and still deciding how to best use this information, it's off to a great start and will enable our VJO's to identify and reach out to more veterans than we have in the past.
For additional information on this article or on trial court technology, please contact Mary DePrez at [email protected] or 317-234-2604