By Anne Fuchs, Director of Communications • Court of Appeals of Indiana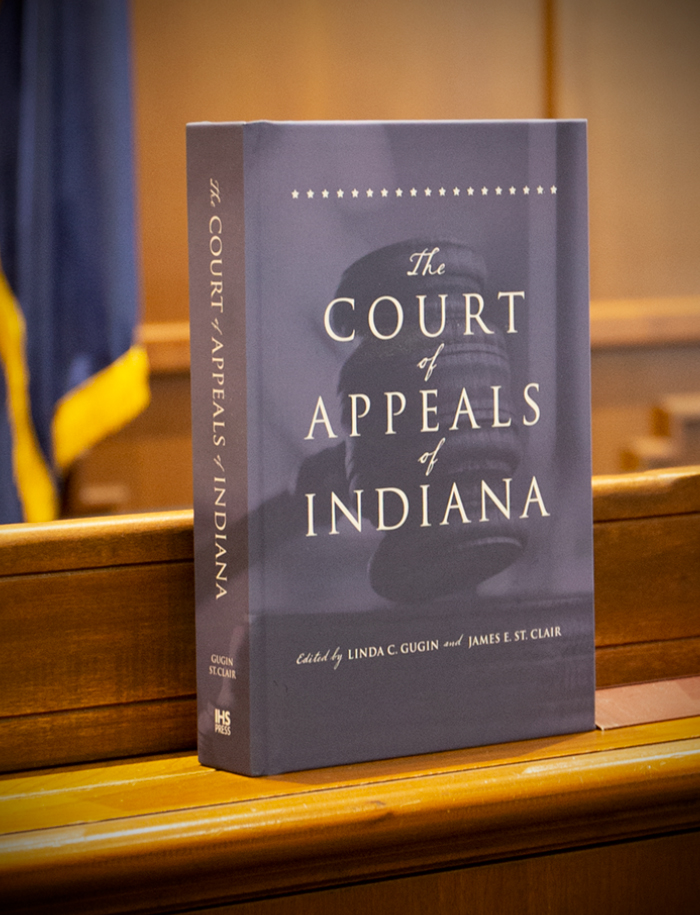 The Court of Appeals of Indiana has launched its first-ever historical court biographies book. A landmark contribution to Indiana state history, the 475-page book tells the story of the Court through its people: the 120 men and women who served as judges from 1891, when the court was established, through 2020, when the book went to press.
Described by Indiana Lawyer's Marilyn Odendahl as a collection of "delicious vignettes," the book features 120 short, 750-word stories written by members of Indiana's legal community, including current Court of Appeals judges. Editors Linda Gugin and James E. St. Clair encouraged authors to write about the personalities, childhoods, families, perspectives, and experiences of each judge. The goal was to give the public a true sense of the people behind the robes—and behind the decisions—that have shaped Indiana law over the past 131 years.
More than just names
Judge Edward W. Najam Jr. was a strong advocate and promoter of the book project, wanting to show the "remarkable diversity of backgrounds and experiences" of the Court's past and present judges. The book provides insights about the perspectives that shaped the authors of opinions that today's lawyers and judges still cite. Although each biography kicks off uniformly with a photo, name, and dates associated with each judge's career and life, the stories extend far beyond names and faces and dates. And, depending on who has written the story, different colorful anecdotes, quotes, and insights come to light.
Sharing the story
Although The Court of Appeals of Indiana is available for purchase from the Indiana Historical Society at the coyly chosen price of $18.91, the judges of the Court agreed they wanted to find a more genuine and intimate way of sharing the story than simply selling books. They want to give it away.
Judge Melissa S. May suggested a book tour could be a fantastic way to share the book with others while enjoying the opportunity to meet face-to-face after a long, pandemic-induced separation. "We want to reconnect with our friends in the legal community across the state," said Judge May, "and we want to have some fun doing it."
The Court launched its book tour on May 3, 2022, with the Indiana State Bar Association's "Evening with the Appellate Judges." It is currently scheduling events with bar associations around the state, during which three to four judges will share lighthearted stories and anecdotes and give away copies of the book.
Moving forward
Bar associations are welcome to invite the Court of Appeals to receptions or other events as part of the Court's book tour by contacting Anne Fuchs, Communications Director, at [email protected]. And if you simply can't resist that low, low price of $18.91, you are welcome to purchase the book directly from the Indiana Historical Society at on.in.gov/1891.